Virtual Event
INDIA-FRIENDLY TIMING: 'Darshana: Indian Philosophy, Ancient Texts and Western Perspectives'
August 5, 2021 @ 6:00 am

-

7:30 am

PDT

Virtual Event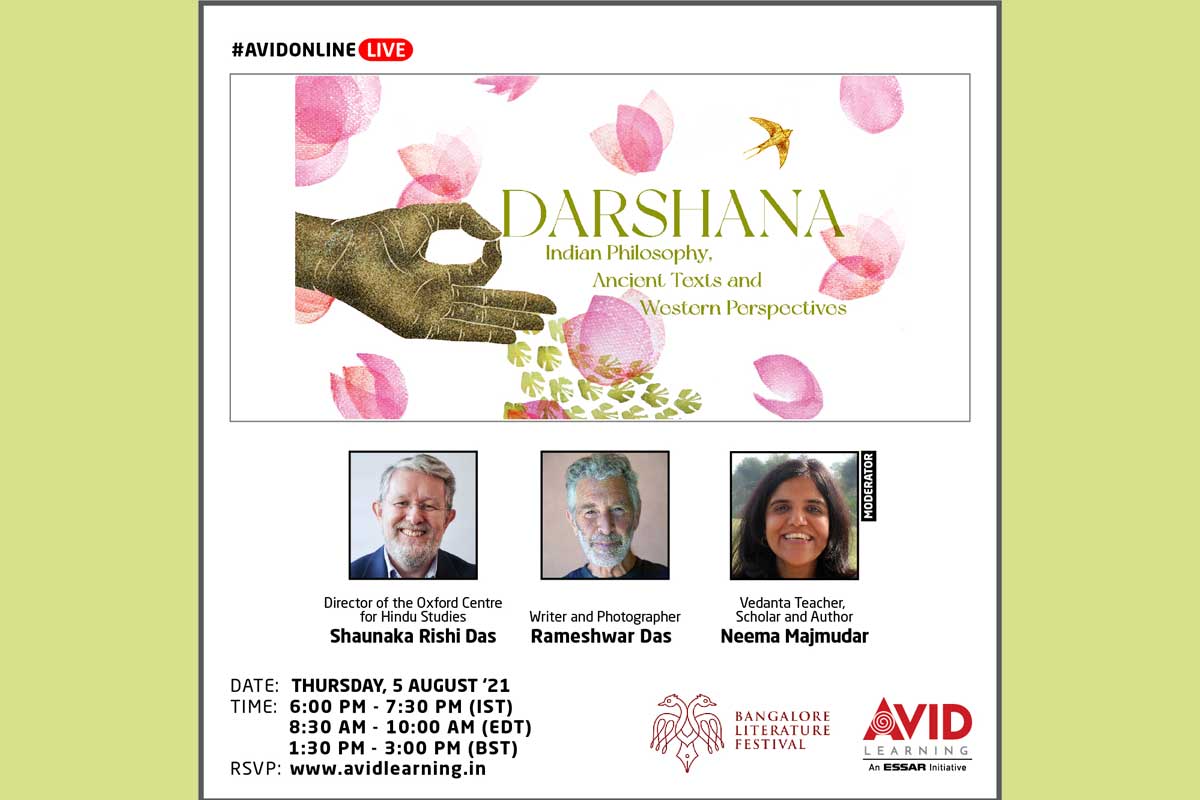 RE-WATCH AVAILABLE BELOW
This event took place at 6 pm IST on August 5, 2021
Ever wondered how different Philosophy is in western theory and Indian practice? Indian philosophy is rooted in pragmatism and the pursuit of truth and reasoning as compared to the intellectual inquiry of modern western philosophy. Join us for a discussion around Indian Philosophy and books like The Bhagavad Gita and the threads of these in Western philosophy and culture. This session is presented in conjunction with the recently launched book Finding Meaning in Life with the Bhagavad Gita.
---
Shaunaka Rishi Das is the Director of the Oxford Centre for Hindu Studies (OCHS), a position he has held since the Centre's foundation in 1997. He is a Hindu cleric, a lecturer, a broadcaster, and Hindu Chaplain to Oxford University. Education, comparative theology, communication, and leadership are his main fields of interest. As Director of the Oxford Centre for Hindu Studies he maintains the vision and ethos of the OCHS and encourages the Centre's continued growth and development in all spheres. In this role, he oversaw the formal recognition of the OCHS by Oxford University in 2006 and developed the Centre's publishing partnerships with Oxford University Press, Journal of Hindu Studies, and the Routledge Hindu Studies Series. He has also been responsible for forging formal relationships between the OCHS and Universities in the USA, Europe, India, and China. He is the first Hindu Chaplain to Oxford University in its 800-year history.
Rameshwar Das is a writer and photographer who met Ram Dass in 1967. He is the co-author of Being Ram Dass, a memoir from spiritual teacher and cultural icon, Ram Dass. Born Richard Alpert, Ram Dass was a prominent Harvard psychology professor who partnered with Timothy Leary in psychedelic research, and later traveled to India and met his guru, Neem Karoli Baba. Upon returning to the US with his new name, which means "servant of God," Ram Dass became a pivotal influence on the culture with his groundbreaking book Be Here Now—a backpacker's bible for a generation of spiritual seekers. In Being Ram Dass, America's best-known and beloved spiritual teacher, Ram Dass, shares his life story set against the backdrop of eight decades of cultural transformation. Ramesh was inspired to go to India and was given the name Rameshwar Das by Neem Karoli Baba. Ramesh has collaborated with Ram Dass on many projects-as coauthor of Be Love Now and Polishing the Mirror.
Neema Majmudar has a Master's Degree in International Affairs from the School of International and Public Affairs (SIPA), Columbia University, New York. She has studied the Upanishads, the Bhagavad Gita, and Sanskrit with renowned Vedanta scholar, teacher and visionary Swami Dayananda Saraswati at Arsha Vidya Gurukulam, Tamil Nadu, India. She has worked for almost twenty years at the United Nations in the areas of economic and social development in New York, Bangkok and the Fiji Islands, before becoming a full-time teacher of Vedanta and the Gita in India and across the world. Neema and her husband Surya Tahora conduct regular workshops and retreats on Vedanta at several locations in India, Germany, France, Belgium, and South East Asia. Along with Surya, she has co-authored the book 'Living the Vision of Oneness'. Their book, programs, and YouTube videos are available at: https://discovervedanta.com. Neema has over 200 students attending her classes every week, from Mumbai and around the world on Zoom. After 20 years of teaching the Gita to hundreds of students from diverse countries and backgrounds, through classes – online and live, residential retreats and workshops, Neema Majmudar has a unique understanding of peoples' dilemmas and habitual mindsets. She has witnessed first-hand how the teachings of the Gita echo with people around the world and transform their approach to life. Hers is a strong connection with both the teachings and those it has benefitted. She brings this insight to a mass audience through this book, written under her guidance with her students, Nandini and Saloni.
Related Events