Mirabai Bush
Chairperson
Mirabai Bush is a devotee of Neem Karoli Baba and spent time with him in India from 1971 to 1972. Along with Ram Dass, she is the co-author of Compassion in Action: Setting Out on the Path of Service and Walking Each Other Home.
Mirabai is Senior Fellow and founder of the Center on Contemplative Mind in Society, which encourages contemplative practice and perspective in American life in order to create a more just, compassionate and reflective society. The center has created the Association for Contemplative Mind in Higher Education, a network of scholars, teachers, and administrators.
Mirabai has also worked with Google on a workplace course called 'Search Inside Yourself' and with the US Army on a program for chaplains and medics. She formerly directed the Seva Foundation Guatemala Project, which supports sustainable agriculture and integrated community development. She is editor of Contemplation Nation: How Ancient Practices are Changing the Way We Live, co-author of Contemplative Practices in Higher Education: Powerful Methods To Transform Teaching and Learning, and author of Working with Mindfulness (CD). She lives with her partner in Western Massachusetts.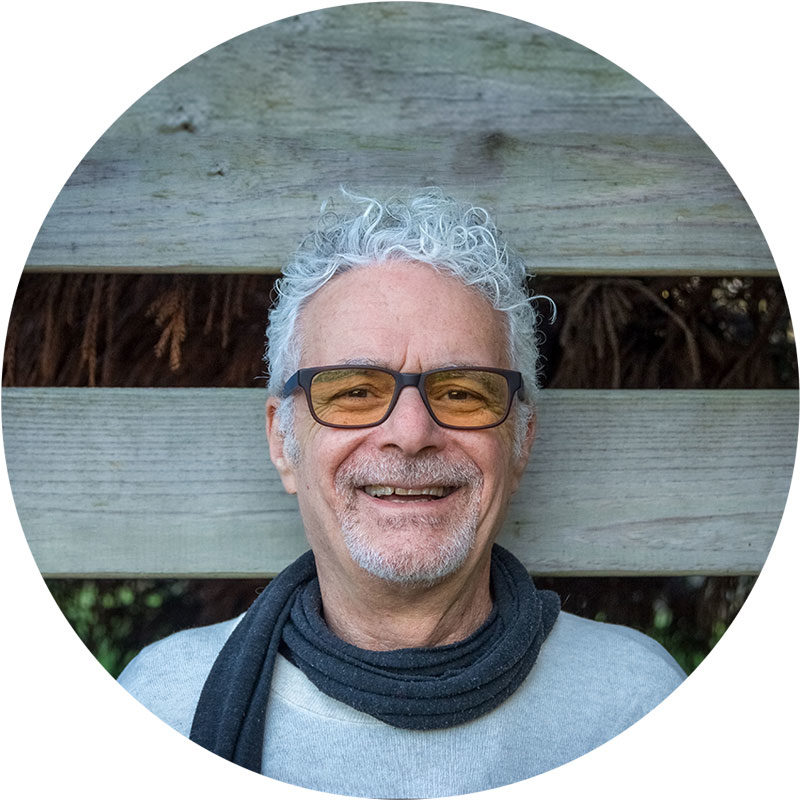 Raghu Markus
President
Raghu Markus spent 18 months in India with Neem Karoli Baba and Ram Dass. He has been involved in music and transformational media since the early 1970s, when he was program director of CKGM-FM in Montreal.
In 1974, he collaborated with Ram Dass on the box set Love Serve Remember. In 1990, he launched Triloka Records, which established itself as a critical leader in the development of world music. For 17 years, Triloka was home to such artists as Krishna Das, Hugh Masekela, Walela, Jai Uttal and transformational media projects that featured Ram Dass, Deepak Chopra, and Les Nubians.
Raghu lives in Ojai, California, and is the Executive Director of the Love Serve Remember Foundation. In 2016, he co-founded the Be Here Now Network, where he hosts the Ram Dass Here & Now podcast, as well as his own Mindrolling podcast. He is the producer of Becoming Nobody, a Ram Dass documentary feature film that was released in 2019.
Rameshwar Das / James Lytton
Secretary / Vice President
Rameshwar Das met Ram Dass in 1968 soon after his return from India, and learned yoga and meditation from him. He traveled to India and spent time with Neem Karoli Baba from 1970-1972. His working life has been primarily as a photographer, including freelance work for the New York Times and other publications. He taught photography and photo-journalism, and also worked as an environmentalist and writer.
Ramesh collaborated on several projects with Ram Dass including the original collection of manuscripts that became Be Here Now and the Love Serve Remember box set of recordings. He is the co-author of Ram Dass's newer books, Be Love Now and Polishing the Mirror, and most recently Ram Dass's memoir, Being Ram Dass. He lives with his wife on the far east end of Long Island.  Photo credit: John Phaneuf
Gopal / Paul Singer
Esq.
After graduating from law school, Paul Singer met Ram Dass at Lama Foundation in the spring of 1972. Ram Dass suggested that if he found himself in India that summer, he should look for a member of the Sah family in Nainital. He did, and from there he met and spent the next four months in Neem Karoli Baba's presence and daily darshan.
Paul returned to Rhode Island, where he has been engaged in the general practice of law for nearly five decades. His work includes forming and advising non-profit charitable, educational and arts organizations; counseling environmental entrepreneurs, environmental legal advocacy, litigation, land preservation; and estate planning and taxation.
Paul helped preserve an integral part of the largest unbroken forest between Boston and New York; helped form the core of a Federal Wildlife Preserve and a state ocean front preserve, both in Charlestown, Rhode Island; and restored historic buildings in the town of Westerly and the village of Carolina, both in Rhode Island. He helped form and fund the professional Colonial Theatre and Westerly Shakespeare in the Park, a professional outdoor Shakespeare festival. Paul also sits on the board of the Neem Karoli Baba Ashram in Taos, NM.
Gagan / Jared Levy
As a current board member to his teacher Ram Dass's Love Serve Remember Foundation, Gagan (Jared Levy) has been instrumental in strategizing how to connect the greatest wisdom keepers of our time to a new generation. As co-chair of Social Venture Circle – one of the country's most prestigious impact investor and social business communities – he leads the way to a next economy that is regenerative, just, and prosperous for all.
Gagan has gained industry-wide recognition as the Founder and Chief Creative Director of the award-winning creative agency We Are Guru, which serves some of the world's most impactful and purpose-driven movements, brands and organizations, including: Patagonia, World Bank, Obama 08', One Percent for the Planet, Seva, The Nature Conservancy, NASA, and Robert Wood Johnson Foundation.
Gagan's success blooms from the inside out as a certified and registered yoga teacher with a deeply dedicated meditation and mindfulness practice. He is a sought-after speaker/yogi/philosopher/entrepreneur who weaves inspiring stories and experiences at the nexus of spirituality, purpose and business as a force for good. He lives with his family in the San Francisco Bay Area.
Mirabai Starr
Mirabai Starr is an award-winning author of creative non-fiction and contemporary translations of sacred literature. She taught Philosophy and World Religions at the University of New Mexico-Taos for 20 years and now teaches and speaks internationally on contemplative practice and inter-spiritual dialog. A certified bereavement counselor, Mirabai helps mourners harness the transformational power of loss. Mirabai met Ram Dass in 1975 at the Lama Foundation when she was 14 and has been a devotee of Neem Karoli Baba ever since.
Her latest book, WILD MERCY: Living the Fierce & Tender Wisdom of the Women Mystics, was named one of the "Best Books of 2019" by Spirituality & Practice. Mirabai is on the 2020 Watkins List of the "100 Most Spiritually Influential Living People of the World." She lives with her extended family in Taos, New Mexico, home to the Hanuman Temple and the only Neem Karoli Baba ashram in the West.
Durga Stef Weingerz
Durga Stef Weingerz holds a Master's degree from Harvard University and is a registered Yoga Teacher since 2008, teaching throughout Mexico, LATAM and to other native Spanish speakers. She has trained more than 300 teachers, and participated in national and international yoga festivals throughout the country. Her studio (O2 Yoga Mexico) has been voted Mexico's top yoga spot for several years, appearing in multiple cover magazines and radio shows. And her podcast, Conversaciones del Alma con Durga Stef, is listed among Spotify's top Podcasts across Mexico.
Durga fell into Maharaji's Grace through meeting Ram Dass in 2014, and she continues to share their teachings of acceptance, joy and love in all she does. Durga lives with her husband and three children in Valle de Bravo, near Mexico City.
Advisor Circle
Chris & Mike Janeczko, Hari & Lakshmi Cianciulli, Mohan Baum, Rev. Michael Beckwith, Chuck Blitz, Frank Ostaseski, Mirabai Starr, Rose Boyle, Girija Brilliant, Larry Brilliant, Malik Cotter, Mike Crall, Krishna Das, Surya Das, Rukmini Forrest, Joseph Goldstein, Dan and Tara Goleman, Wavy Gravy, Stan Grof, Rita Ryan, Joan Halifax, Charlie Halpern, Peggy Hitchcock, Jack Kornfield, Trudy Goodman, Steve Jones, Mickey Lemle, Tom Lesser, Dasi Ma Murphy, Josh Mailman, Bruce Margolin, Parvati Markus, Sunanda Markus, Sarasawati Markus, Raj Rajan, Stefan Rechtschaffen, Barbara Hoffman, Ira Rose, Sharon Salzberg, Ananda Tary, and Suzie Rizzuto.