"Certain musicians are doing karma yoga, where it's all dedicated as a service to come to God. It has to do with what the musician thinks they're doing. It's like listening to that inner-sound, and then they're manifesting it through their instrument. So, someone else can use that as a key to go back in themselves, and where we meet is in this other level of sound, where the instrument is just the vehicle, and the musician knows that." – Ram Dass
We created Soul Land Records as a natural repository for the new music being created in dedication to and inspired by Ram Dass, who was an avid music listener with tastes spanning across many different genres – but always oriented towards touching that innermost place, that "Soul Land."
It is our intention that Soul Land Records may grow to serve our mission of spreading the teachings of Ram Dass through music.
New Release: John Forté - "Ready on the One" feat. Spills, Five & Miss Brittany Reese
John Forté came into the Love Serve Remember Foundation orbit by virtue of his introduction to Ram Dass via 'Be Here Now'. Last year he created a music video including Ram Dass and "Love Serve Remember" in his lyrics. In our first conversation, John introduced me to the new music he was creating, and because of my personal love for music, coupled with my experience in the music business – with our newly inspired Soul Land Records, we offered to become a vehicle for the distribution and marketing of his record.
Fast forward to the release of the first single on John's record, 'Ready on the One' (feat. Spills, Five & Miss Brittany Reese), from his album, 'Vessels, Angels & Ancestors'—I can't say how thrilled I am personally and on behalf of the foundation, to be able to present the artistic vision of John Forté with his powerful poetry and melodies, supported by his masterful production and contributing artists.
The way in which John marries the on-the-ground representation of social justice with his deep understanding of the unconditionality of love—and the wisdom that is contained therein—will be a tremendous offering for whoever this music speaks to.
This is what Ram Dass always aimed for when he talked about, "We as humans can live on two planes of consciousness at the same time," – which, in this case, is the relative and the absolute. John represents this ability to reflect these two planes of consciousness through his own life experience. I believe Ram Dass would be exceedingly happy for the foundation to be representing John's art.
We hope you all feel as we do, so incredibly refreshed and excited to experience new music as profound as the work of John Forté.
- Raghu Markus
Check out our other releases!
Soul Land Music Series: Volume 1
STREAM & DOWNLOAD THE FULL ALBUM NOW!
Track Listing
Krishna Das -

Sri Hanumat Stawan

Trevor Hall -

My Own (Live)

Dirtwire x Ram Dass -

Mid-America Motel

SIMRIT

-

Guru Ram Dass

Govind Das & Radha -

Hara Hara Mahadev 

East Forest x Ram Dass -

We Are Truth (Live)

Shantala (Benjy & Heather Wertheimer) -

In Praise of the Guru 

HuDost -

This is How My Story Ends (Live)

Papadosio x Ram Dass -

Your Game is Clean

Lei'ohu Ryder & Maydeen 'Īao

-

Aloha Ram Dass

Superposition x Ram Dass -

Awareness (Live)
Dirtwire x Ram Dass - "Mid-America Motel"
Papadosio x Ram Dass - "Your Game is Clean"
Govind Das & Radha - "Hara Hara Mahadev"
"Music is a language that all souls understand." - Ram Dass
Soul Land Music Series: Volume 1 is a collection of live music inspired by the life and teachings of Ram Dass. Offering an eclectic and expressive assortment of artists and genres—ranging from folk and world,  jam, rock and kirtan, to ambient electronic meditations — Soul Land Music Series: Volume 1 offers listeners an ethereal and entertaining journey to the heart.
The songs which comprise this compilation are hand-selected mastered tracks from each artist's unique and specially-curated live performance on the first season of the virtual concert series, Soul Land Music Series: Songs & Stories Inspired by Ram Dass. 
Featuring the soulful singer/songwriter Trevor Hall, the chant master Krishna Das, artfully melodic East Forest, the extraordinary musicianship of Shantala's Benjy Wertheimer on the Esraj, sophisticated electronic atmosphere of Boreta/Superposition, as well as Simrit's extraordinary mashup of sacred mantras with the African kora. This compilation serves as a way to both honor Ram Dass's deep connection to music, and provide listeners with a tool to bypass the thinking mind and be welcomed with open arms into the heartspace that is Soul Land. 
"Certain musicians are doing karma yoga, where it's all dedicated as a service to come to God.  It has to do with what the musician thinks they're doing. They're listening. It's like listening to that inner-sound, and then they're manifesting it through their instrument. So, someone else can use that as a key to go back into themselves, and where we meet is in this other level of sound, where the instrument is just the vehicle, and the musician knows that."   - Ram Dass
Soul Land Vol. 1 Artist Lineup
Krishna Das
Layering traditional kirtan with instantly accessible melodies and modern instrumentation, Krishna Das has been called yoga's "rock star." KD spent the late '60's traveling across the country as a student of Ram Dass, and in August 1970, he finally made the journey to meet his guru, Neem Karoli Baba, known to most as Maharaj-ji. KD now travels the world sharing his kirtan practice and stories of the Path.
Trevor Hall
Trevor has a personal connection with Ram Dass that stemmed from a young age. His music, a blend of roots and folk music, is imbued with a deep love of Eastern Mysticism. This powerful symbiosis fostered a deep connectivity with his fan base and Trevor quickly matured into a leader and storyteller for the conscious musical community.
Dirtwire
Dirtwire sits on the front porch of Americana's future, conjuring up a whirlwind of sound using traditional instrumentation, world percussion, soundscapes, and electronic beats. Comprised of David Satori (Beats Antique), Evan Fraser (Hamsa Lila; Bolo), and Mark Reveley (Jed and Lucia), each performance brings both band and audience to a mysterious crossroads of beats, blues, African, Asian, and South American sounds. The result is a rebirth of Americana and a post-millennial psychedelic journey to downhome goodness.
SIMRIT
Chart-topping and world-renowned musician and vocalist, SIMRIT, has been studying and working with the science of sound and consciousness for two decades. Alongside her band, SIMRIT creates vibrationally powerful and healing music to impact both positive internal & external change. Decades of study and experimentation with the quantum technology of Naad Yoga (the ancient science of using sound to impact the brain's neural pathways and chemicals, eliciting altered states of reality) deeply influences her music. Her highly acclaimed courses, The Supreme Sound 2.0 and Clear & Confident, are studied worldwide.
Govind Das & Radha
Govind Das and Radha are California-based kirtan singers, and devotees following the path of Ram Dass and Neem Karoli Baba. They are the directors/owners of Bhakti Yoga Shala in Santa Monica CA. They are a husband and wife team and their commitment to love, service, and devotion is transmitted through their chanting and teachings. Govind Das and Radha lead evenings of kirtan, bhakti yoga workshops, present at festivals and lead and transformative retreats throughout the world.
East Forest
Since 2008 EAST FOREST has been the leader of underground 'sound meditation' ceremonies around the world, creating sonic architecture for people to explore their inner space. In the summer of 2018, he traveled to Maui to record new teachings from Ram Dass. After capturing his words of wisdom, East Forest returned to the studio to compose the album EAST FOREST X RAM DASS. Covering topics such as dark thoughts, nature, technology and much more, these songs are full of timely inspiration.
Shantala
Benjy and Heather Wertheimer have been leading kirtan (sacred chanting) worldwide since 2001 as the duo Shantala. They are known for their special gift of bringing the audience into a vast and loving experience through their unique blend of exquisite voices with instruments of India and the West. Together they create music with beauty, passion, and reverence. Shantala has performed and recorded internationally with such sacred music luminaries as Krishna Das, Deva Premal & Miten, and Jai Uttal. Heather and Benjy have released six beautiful and well-loved albums of sacred chant music since 2003, including LIVE2love, Living Waters, Jaya, LIVE in love, Sri, and The Love Window.
HuDost
The music of HuDost weaves a seamless tapestry of Folk, World, and Rock that renders tears and laughter in listeners, cultivating the nameless longing that abides somewhere in all our hearts and invoking total celebration. HuDost's core musicians are Moksha Sommer, from Montréal, and Jemal Wade Hines from Kentucky. Having toured the U.S., Canada, and Europe constantly since April 2006, HuDost has grown and expanded, travelled rocky and glorious terrain and marveled at all they can learn and explore. It is through music that the losses and gains, pains and triumphs and excruciating beauty of life can be given a voice of empathy to the synonymous lives of all people.
Papadosio
Characterized as a dynamic progressive rock band, Papadosio creates the sound of new-age technology merging with mesmerizing instrumentation. Papadosio strives to create music that is strangely familiar and calls all walks of humanity to bask in a unique experience celebrating the one constant in an ever-changing world: music.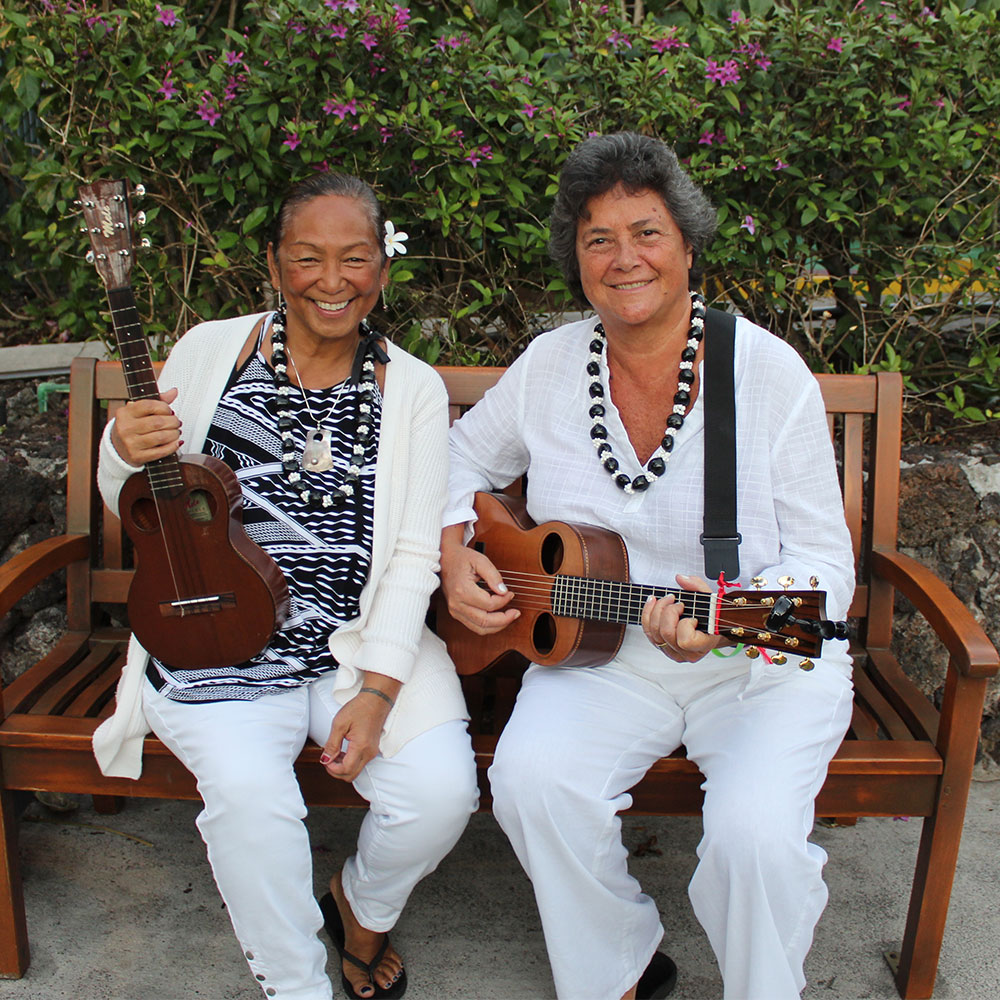 Lei'ohu Ryder & Maydeen 'Īao
Lei'ohu and Maydeen became friends with Ram Dass when he moved to Maui in 2004 and became a fundamental element in Ram Dass Maui Retreats since that time, frequently joining him at Maui Satsang gatherings over his 15 years of living on island.
Lei'ohu Ryder is a Hawaiian spiritual leader, visionary, singer/songwriter, healer, and educator. Along with her partner Maydeen Ku'uipo 'Īao, they are Kumu Aloha (emissaries of aloha) and advocates for the indigenous soul in all people. Their love and knowledge of Hawai'i, help us connect with our selves, with Spirit, and the essence of Aloha.
Their music / songs are the testimonies of their life that has helped them in taking the steps in remembering. Their songs are visions that teach us to love, forgive, trust and open to infinite possibilities. Their songs are Experiences that show us there is not one space on Mother Earth that is more sacred than another.
Boreta / Superposition
Justin Boreta is a founding member of The Glitch Mob and Superposition, an internationally-recognized electronic music group originally formed in 2006. He has been a personal practitioner of Vipassana meditation for over 10 years and has led spatial and ambient music performances, including the creation of two ambient Ram Dass soundtracks: IMAGINE and AWARENESS.
REVISIT THE SOUL LAND CONCERTS
Over the years, Love Serve Remember Foundation has evolved into a fertile ground for artists to cultivate work inspired by Ram Dass's teachings. In the autumn of 2020, we hosted our first ever virtual Music Series, allowing us to bring together musicians from a variety of genres and backgrounds that all shared a similar thread of interest in both Ram Dass and the spiritual journey.
We hosted two fantastic seasons of Soul Land Music shows, and you can re-visit them both below!