Virtual Event
LOVE, FAMILY & BHAV: Celebrating the release of "The Bhav of KK Sah" with Raghu Markus, Krishna Das & Rameshwar Das
February 14, 2021 @ 5:00 pm

-

6:30 pm

PST

Virtual Event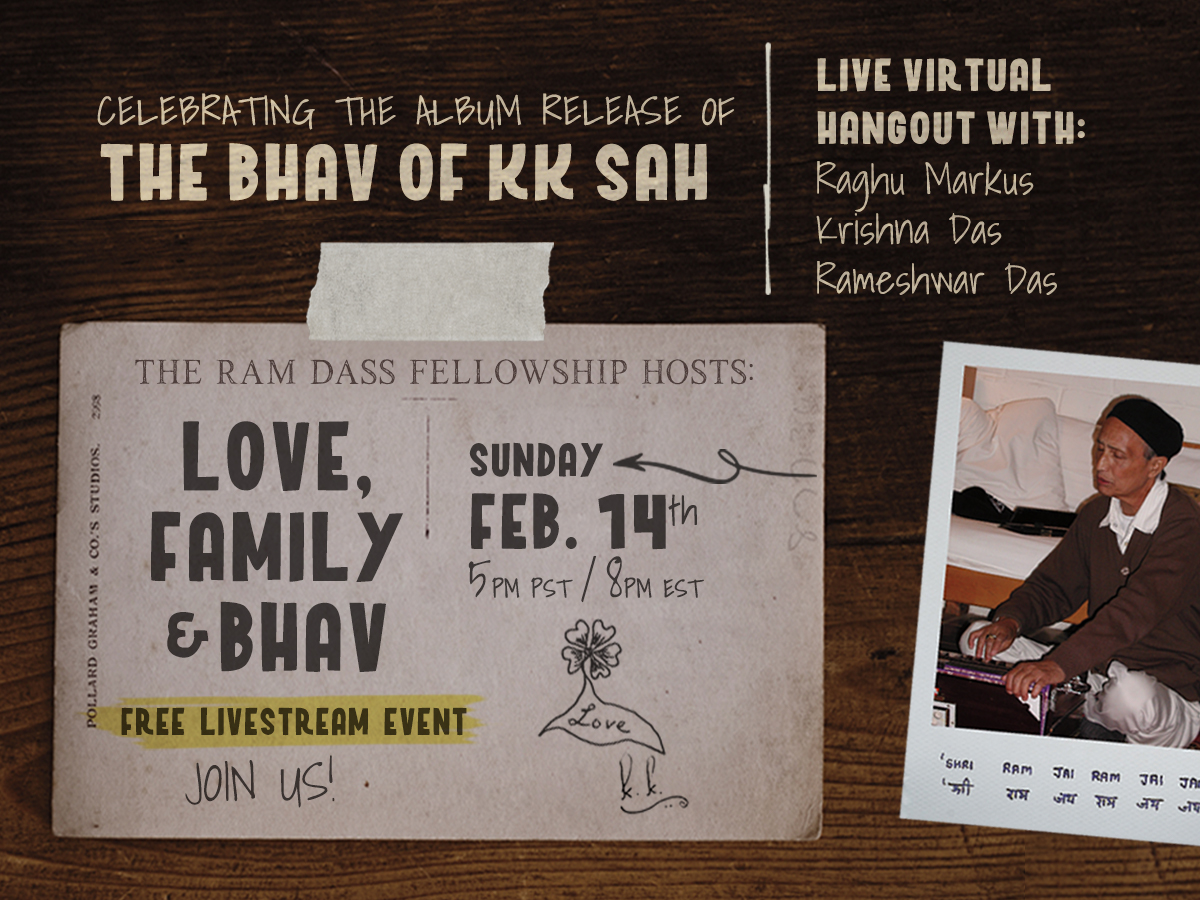 Click Here to order The Bhav of KK Sah as CD Digipak or Audio Download.
The devotional aspect of kirtan and bhajan is a deep inheritance given by KK Sah, who had been with Maharaj-ji since he was a small child and passed only a few weeks after Ram Dass left his body. KK was a bridge of grace, welcoming westerns with unbounded generosity that allowed them to connect to Maharaj-ji. He showed a purity of heart that involved unconditional love, the dynamics of Indian family love, and an expression of love found in the yoga of devotion, known as bhav. He helped Ram Dass and the Satsang not only understand bhav, but gave them practices to share it with others. In this livestream, Raghu Markus, Krishna Das and Rameshwar Das will share the extraordinary experiences and gifts given by KK Sah, and release this keepsake album, The Bhav of KK Sah.
---
Raghu Markus spent two years in India with Maharaji and Ram Dass. He has been involved in music and transformational media since the early 1970s when he was program director of CKGM-FM in Montreal. In 1974 he collaborated with Ram Dass on the box set Love Serve Remember. In 1990 he launched Triloka Records and Karuna Music in Los Angeles, California. Triloka established itself as a critical leader in the development of world music and for 17 years was home to such artists as Krishna Das, Hugh Masekela, Walela, Jai Uttal and transformational media projects that featured Ram Dass, Deepak Chopra, and Les Nubians. Currently he is the Executive Director of the Love Serve Remember Foundation and his Mindrolling Podcast is part of the Be Here Now Network.
---
Rameshwar Das met Ram Dass in 1968 soon after his return from India, and learned yoga and meditation from him. He traveled to India and spent time with Neem Karoli Baba from 1970-1972. His working life has been primarily as a photographer, including freelance work for the New York Times and other publications. He taught photography and photo-journalism, and also worked as an environmentalist and writer.Ramesh collaborated on several projects with Ram Dass including the original collection of manuscripts that became 'Be Here Now' and the 'Love Serve Remember' box set of recordings. He is the co-author of Ram Dass's newer books, 'Be Love Now' and 'Polishing the Mirror', and most recently Ram Dass's memoir, 'Being Ram Dass'.
---
Layering traditional kirtan with instantly accessible melodies and modern instrumentation, Krishna Das spent the late '60's traveling across the country as a student of Ram Dass, eventually leading him to his guru, Neem Karoli Baba. KD now travels the world sharing his kirtan practice and stories of the Path.
---
Related Events